GIBB 65th Anniversary
Strength, Trust and Adaptability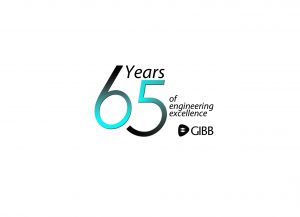 I had the privilege to invite one of the founders of the South African chapter of GIBB, Mr David Hill, to join me at the company's 2014 excellence awards celebration in Cape Town. Notwithstanding his frailty due to his advanced age at the time, his sense of humour and attention to detail remained razor sharp.  He complimented us for a great evening dedicated to celebrating our star performers and shared his immense pride in how GIBB had become a leading success in the field of engineering. He asked me to always remember that good people built great companies. This was the motto that carried Hill Kaplan Scott (HKS), the company that became the cornerstone of GIBB in South Africa, from its inception in 1956.
When we reflect on the successes of the company over the last 65 years, we do so knowing that our success is best attributed to the incredible people talent that carried the GIBB brand with pride, as we executed some of the most complex engineering projects on the African continent. The British firm, Alexander GIBB, founded by Scottish engineer Brigadier-General Sir Alexander GIBB, subsequently merged with an Atlanta based American company, LAW to form LAW GIBB. LAW GIBB (now part of Jacobs) acquired HKS in 1994, just as South Africa entered the miracle of its new democracy, it set in motion a step-change for Hill Kaplan Scott to become an Africa-based world-class engineering house.
The company was rebranded as LAW GIBB and immediately adopted an international best-practise approach to project delivery and client services, reflected in its recognition of being one of the first engineering companies in South Africa to become ISO9001 accredited. Today, having returned the ownership to South Africans in 2002 and becoming a 100% broad-based employee owned company in 2006, we still view ourselves as competing with the best in the world. This was aptly described by our former Chairman, Dr Don Mkhwanazi when he stated in his 60th anniversary message:
"GIBB demonstrated with distinction that black economic empowerment can be implemented with dignity and pride that is beyond reproach. A shining example and a beacon of hope for the South African industry, GIBB competes in a space dominated by multi-nationals firms, but remains wholly South African owned."
The journey over 65 years carries with it many stories of success, disappointment, ingenuity, courage, transformation and agility. From its early days as a partnership in Cape Town, providing electrical and structural engineering services, GIBB evolved into  a leading multi-disciplinary Company  offering services across power, transportation, property, water, mining and now more recently the oil & gas market.
In line with our ethos to always be agile, the GIBB Group of Companies has evolved its role in the delivery of engineering and infrastructure projects. Through its subsidiaries and affiliates, GIBB now also partners with project developers and owners to finance early stage project development in the water sector, undertakes joint development of renewable energy projects and provides life cycle services, such as asset management and operations & maintenance of infrastructure projects. This integrated offering makes GIBB an attractive partner for developers and owners of infrastructure assets.
For those closely associated with GIBB, this evolution of GIBB comes as no surprise. It is embedded in our recently updated vision to be The Trusted Creator of Integrated Solutions. It is also embedded in the GIBB Brand. The pebble at the heart of our logo symbolises a beautifully crafted gemstone, shaped by the forces of nature. Yet, in the natural process that shaped the humble pebble over many years, comes the knowledge that the pebble has a long history with natural attributes that reflects strength, trust and adaptability.
Our partnership approach and our drive to go beyond a technical solution means that our clients see us a trusted partner. We do our best to not only understand our clients and partners' own challenges, but we also strive to keep the ultimate end-users of our engineering solutions in mind. In the few instances where we do not get it right the first time, our clients are assured that in the end, our solutions will ultimately deliver on their mandates. It is for these reasons that we believe that trust is earned and that lasting relationships are built on trust.
Our many loyal clients have over the years entrusted us to assist them to deliver some of the largest and most complex infrastructure projects. Whether it is partnering in the design and building of a new 500-bed ICU hospital in 30 weeks during COVID, or being an integral part of the team overseeing the building of  the first rapid-rail project in South Africa (Gautrain), or leading the team designing and delivering the largest pump-storage scheme in the southern hemisphere (Ingula Pumped Storage Scheme) or leading the team designing and delivering a dam to supply the economic hub of South Africa (Lesotho Highlands 2), or being an integral part of the teaming planning, designing and delivering a new 68-000 seat world cup stadium in record time (Cape Town Stadium), or designing the signalling system to ensure that millions of passengers are safely transported across the country on our rail systems (Prasa Signalling projects), or designing key components of a new mine with critical time constraints and a limited budget, or to help solve the power problems in SA, or developing a detailed plan for transforming an existing highly populous African city to a modern and world class city (Port Harcourt, Nigeria); we always rely on the experience and expertise of our people to deliver sustainable value.
Our ability to develop these great projects is enhanced by our integrated approach and the various partnerships that we have created over the years. This means that we always seek out partners who share our drive for excellence – be they local or international. When GIBB acquired SVA International in 2013, we were not only attracted by architectural aesthetics of their great projects such as Long Beach in Mauritius, or the commercial functionality of Matlosana Mall in Klerksdorp, or the educational impact of Mangosuthu Technikon, or expending the CTN ICC to be globally competitive; we also saw an opportunity to create an integrated professional services offering for the property sector.
When GIBB and EDF (a global French energy company) joined hands in 2018 to form GIBB Power, it was from the realisation that South Africa (and the rest of Africa) is in great need for both local and global expertise to respond to the power challenge. Similarly, we work closely with SAIPEM (Milan based oil & gas EPC firm) to find climate change solutions to industry in Southern Africa. Our project development initiatives are being supported through a partnership agreement with Crede Capital Partners (a financial and investment services company).
The world at the moment is confronted with an unprecedented pandemic last seen more than 100 years ago. The loss of lives and destruction of livelihoods associated with the COVID-19 pandemic has been painful to witness. Like everyone else, GIBB had to do everything possible to survive the pandemic. Notwithstanding the devastation along the path of the pandemic, GIBB drew its strength from its heritage and its people to also use the opportunity to build resilience and new ways of doing business. We have used the opportunity to optimise our operations whilst also creating a better work-life balance for our people. We are actively transforming our business to take advantage of the opportunities presented by the digital evolution.
The challenge is far from over. The construction industry is currently the worst performing economic sector in South Africa. As a share of nominal GDP, fixed investment has fallen to critically low levels, down to 15%, which is similar to the troughs experienced towards the end of apartheid and after the emerging market crisis of 1997/98 (Nedbank Capital). The consulting engineering industry market size has shrunk from a peak of R 27 billion in 2017 to R 10 billion in 2020. Our concerns are not only the lost economic opportunities and reduction of inequality in our society that would come from fixed investment, but also the loss of our globally recognised talent pool available in South Africa. It might take us many years to regain the lost engineering and architectural know-how necessary to create a globally competitive South Africa.
Despite these market challenges, history has shown that the market will improve. This is a company that has not only survived six decades of construction and engineering industry boom and bust, it has also developed into an exceptional company with exceptional people. Our people have first-hand knowledge of many facets of the industry and the challenges to develop sustainable infrastructure solutions. Because of this, we see the opportunities when others may have lost hope. This understanding has set us on a new path to ultimately evolve into infrastructure asset owner and operator.
We have set a new course, cognisant that our history, just like our pebble, will be shaped by the circumstances we face. We do so with the knowledge that our people are driven by their passion to make a difference.
Richard Vries
GIBB Group CEO