WINTER WARMER OUTREACH HELPS THOSE BATTLING THE WINTER FREEZE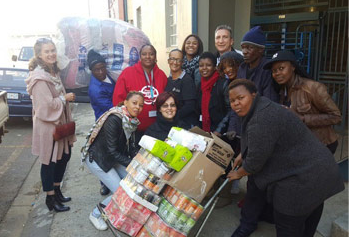 As temperatures drop, sometimes to below freezing point in South Africa, winter represents cruel and cold nights for many who don't have the means to stay warm.
With the cold winter grip set to continue GIBB staff set out to make a valuable contribution through a sock collection drive. Employees and the public also rallied together by providing cash donations to purchase winter essentials for various beneficiaries in the communities which the firm operates in.
The annual winter drive has over the year's been a great success with staff member involvement. This year, the initiative drew the attention of respected South African personality and philanthropist, Maps Maponyane, who was excited to participate by donating socks to the drive.
Beneficiaries across the regions were touched by the generosity, each person receiving a blanket and a pair of socks among other essentials. "We see GIBB's involvement with our beneficiaries as a partnership rather than an investment and through this we hope to bring about a positive and tangible change in the livelihoods of these recipients," said GIBB Marketing and CSI Practitioner, Yolande van Rooyen.
"We hope that the results of this drive will be felt for those in need – now and for the rest of the cold winter months to come," she concluded.